The Trusted Link between You and Server
ConcordFTP is a secure and robust FTP client for transferring files between PCs and remote servers. It can be used as a stand alone FTP client or as workgroup FTP client with centralized management control functions. In addition to performing secure file transfer tasks, it offers comprehensive functions for managing multiple-user access to ensure regulatory compliance with controls and audit trail.
ConcordFTP supports most servers, e.g. Windows, Linux, BSD, and more. Its control functions provide regulatory compliance solutions for data transfers and storage. ConcordFTP is designed to protect your data and meet the security standards of HIPAA and others, and to solve issues arisen from privacy and security concerns.

---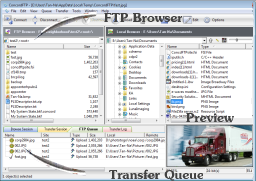 Its customizable interface, from simple to advanced depending on account setup options, also comes with integrated text and HTML editors, image viewer, and archive managers.