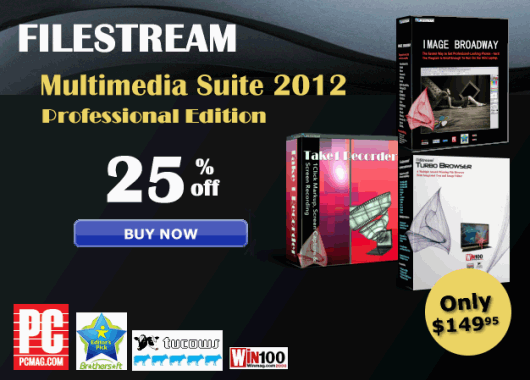 FileStream Multimedia Suite 2012 Professional Edition consists of three award winning, powerful yet easy-to-use multimedia programs: Image Broadway, Turbo Browser, and Take-1 Recorder.
Compatibility: Windows XP/Vista/7 and Windows 8 (Consumer Preview Build 8250)
Upgrade Offer: Registered users of any of the component software in the full Suite are qualified to purchase the full Professional Suite at the reduced upgrade price of $59.95. For example, if you are a registered user of Image Broadway, you may purchase the full Suite at the upgrade price.
The Multimedia Suite 2012 Professional Edition supports Digital Camera RAW formats:

Hasselblad CFV, Kodak EasyShare C330 and DCS200, Nikon D40X and E3200, Panasonic DMC-FZ8, DMC-FZ50, DMC-LX2 and DMC-L1, Pentax Optio 750Z, K10D and K100D, Canon PowerShots A610/A620/A630/A640/S3 IS, EOS 400D and EOS-1D Mark III , Apple QuickTake 100/150, Mamiya ZD, Casio QV-R41 and EX-Z4, Olympus E-400, E-410, SP510UZ and SP550UZ, Fuji FinePix S5Pro, Leica Digilux 3, Samsung GX-1S, Sony XCD-SX910CR and DSLR-A100, Minolta DiMAGE G530, Canon EOS-1D , EOS-1DS, EOS 5D and PowerShot S3 IS/A610, Polaroid x530, Nikon D40 and D200, Pentax K10D, Fuji S6000fd, Kodak DCS Pro 14, DC20, DC25, P850 and P880, Panasonic DMC-LX2, Olympus E-330, Imacon Ixpress


By merging together the new easy-to-use layout with the already impressive core technology of Image Broadway — the new Image Broadway 5 is born! It's easier to create professional graphics and edit digital photos. Hailed by critics, it's the new hot program for the upcoming year.



Speed Image Broadway offers you better performance compared to others. It starts up faster, it finds, opens, and imports images faster, it fixes and refines photos faster, and it saves and prints faster.



The Darkroom is entirely intuitive. You don't need to take a course to be able to edit your photos. Now, with a drag of your mouse you can pull and slide bars to adjust backlighting, fill flash, brightness, and contrast of your photos and watch the changes on your screen instantly.

On Screen Photo Editing - The award winning Turbo Bowser offers you many essential quick fix photo editing tools from single click red eye removal button, auto-fix buttons, color adjustment, white balance, fill flash, back lighting, and color cast removal sliders along with the original shooting information and histogram. This new release lets you batch convert, optimize, resize, reduce file size, and print one or groups of photos and images.

Organize and Create DVD/CD - The Organize Wizard lets you organize your photos by name, event, time, or location. Most digital cameras list your photos with serial number style names, which is very hard, if not impossible, to figure out which photo is which. With the additional tools like

zip, unzip, and publish

, you can organize photos on your hard drives and network fast and easy. Burn them onto DVD/CD with Verify to secure backup protection. You can also create your own Slideshow

with just a couple clicks.
All in One Screen Capture, Video Recording & Mark up



FileStream® Take-1® Recorder lets you create How-To videos or capture anything that you see (and hear) from your screen, like YouTube, with just one click or keystroke. Take-1 Recorder lets you capture an entire Webpage and save it as an image. It captures the full page, on screen and off screen. It also lets you capture windows by captions - including those partially visible or hidden, from your screen with one click or keystroke. Take-1 Recorder also comes with built-in onscreen markup tools so you can capture, record, and mark it up all in one place.

MSRP: $199.95
1-User: $149.95
Upgrade: $59.95
Multiple Licenses
Related Products
Image Broadway
FrameShop
Take-1 Recorder
Turbo Browser
Video Converter Pro