Zipping, Unzipping, and File Spanning in a Flash!
TurboZIP Express is fast, and you'll be able to zip and unzip single or multiple files in a flash. The system integrates beautifully with Explorer, you can even quickly ZIP, UnZIP, add files, and more, without opening up TurboZIP Express. You can also compress large files to units of any maximum file size of your choice for easy distribution.
Viewing files is a TurboZIP Express forte. A comprehensive list of internal viewing is supported for your favorite word processing, image, and multimedia files, including ActiveX, ActiveMovie, DirectX, and MP3 support, a quick peek is just a click away -- all without ever extracting a single file!
You can open a Zip file, select a text or graphic file inside the Zip, view it, edit it, and then tell TurboZIP Express to automatically save it back to update the contents of the Zip archive for you - all in one action! There are no separate steps to unzip or zip back into the archive. You simply perform your editing in our preview window to update the zipped file.
New features include an enhanced image toolbar which allows image manipulation right in their zipped state. You can also print images, watch and extract from videos, copy graphics, and open the program that supports the file type. TurboZIP Express also offers advanced features, such as MAPI integration for automatic E-mail attachments, customizable file and disk spanning , password protection, and more, and always keeping in mind of ease of use.

Special Tip - An easy way to transfer large Photos, MP3 files...
Transferring large files can be a frustrating task. TurboZIP Express provides an easy way for transferring large files. All you have to do is to set the maximum CABinet file size in Configuration, right click your file in Explorer to create one or more smaller CABs. On the receiving end, just open the first CAB in TurboZIP Express or TurboZIP Express CAD Edition to view the entire file "as is" or to recombine them.
In addtion to the ability to internally view files, what is also unique in TurboZIP Express is the convenience of only opening the first CAB and be able to view the entire file or to extract and put it back together.

Here are some highlights of TurboZIP Express features:

Compatibility - TurboZIP Express is compatible with other ZIP and CAB file programs that use the standard formats. This means you can exchange archive files with users of other archiving and unarchiving programs. TurboZIP Express does not require other programs to run.


Bypass Program Interface with Drag and Drop - drag and drop files into existing archives within Explorer-compatible file managers or drag and drop files into archives open in TurboZIP Express.


Unique Right Drag and Drop Operations - you can right drag and drop multiple files in Windows Explorer-compatible file managers to extract archives or to create ZIP or CAB, bypassing the TurboZIP Express interface.


Right-Click Menus in Explorer-compatible File Manager - create new ZIP and CAB files or extract files from ZIP and CAB files. The new MAPI integration for E-mail has been added into the right clickmenu, thereby making full use of archive management and E-mail without having to open up additional programs.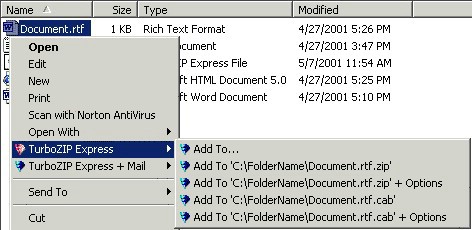 Right-Click Menus within TurboZIP Express - gain quick access to any number of TurboZIP Express operations.


Install Programs Without Extracting Them - automatically extract files to a temporary folder, install them, and delete the folder.


Password Protection - encrypt and decrypt files in ZIP archives.


Multiple Window Interface - open multiple ZIP and CAB archives and maintain more than one preview window.


Display file contents within Archives without opening them.

Lightning-quick multithreaded operations allow TurboZIP Express to display files within Archives, bringing all the attendant advantages of previewing content. Partial list of supported file viewing and printing formats, including both native, ActiveX, and DirectX viewers:
Graphic & Presentation:
BMP, DIB, PCX, JPG, PNG, Targa, TIF
ActiveX Applications
DOC, XLS, PPT, PPS, PDF, CAD formats (DWF, DWG, DXF), and HTML in Web view
ActiveMovie Applications
*using installed components
MP3, MPEG (.mpg, .mpeg, .mpe, .mpa, .enc), MOV (QuickTime)
Document & Text Files:
ASCII Text, TXT, RTF, Word 6 DOC files, HTML source code, Full Hex, programming code, and other common ASCII based files
Icons, Cursors, and Misc. Formats:
ICO, CUR, ANI
Multimedia Files:
AVI, WAV, MID, RMI

Image Toolbar is activated when supported image files are viewed. The enhanced toolbar allows manipulation of images through rotate, mirror image, flip, cut, copy, paste, crop, zoom, and hexadecimal color picking for HTML coding. Numerous image information can also be retrieved through the Image Infobar.


Print files within Archives using the TurboZIP Express native filter support, ActiveX, or by accessing the associated application.


Print and Print Preview file list inside of Zip Archives, including capabilities to sort and rearrange file list display.


Auto Scan selected drives, folders, and subfolders to automatically open multiple archive files.


Multiple Disk Archives (disk spanning) feature to archive and transport large files using multiple diskettes.


File Spanning to create Multiple CAB files with maximum unit file size defined by you.


Zip Comments can be viewed, added, and edited.